About Janelle Calisthenics
Janelle Calisthenics College has a long and successful history which dates back to 1970. We are a competitive class performing at local competitions and the Royal South Street Society (R.S.S.S.) Eisteddfod in Ballarat. Our principal, Mrs Jan Nolan, was a member of the renowned "Minerva Calisthenics College" (now Merinda CC) for several years and moving into coaching was a natural progression for her. Jan commenced coaching in 1967 at the Regent Calisthenics College, Preston, before opening her own college in the growing municipality of Greensborough.
Jan is supported by a team of experienced and fully qualified Level One coaches, who all hold Level Two First Aid Certificates.
Calisthenics (also known as Australian calisthenics) is a team-based competitive performing art featuring elements of rhythmic gymnastics and ballet combined with a strong emphasis on theatricality (both musical and dramatic), costume, dance and musical interpretation.
Calisthenics consists of performing a variety of 'items' which are usually presented at eisteddfod-like stage competitions. Currently the items performed in Calisthenics are: Figure March, Club Swinging, Free Exercises, Rod Exercises, Aesthetics, and several other 'Fancy Items'. Fancy items are those items which typically focus on the theatrical performance other aspects, and are included on a rotational basis (i.e. not all performed every year). Fancy items include Song and dance, Calisthenic Spectacular, Rhythmic (similar to Aesthetics), Stage Presentation and Calisthenics Revue. At the most elite level, Calisthenics competitors are required to have a high level of flexibility, strength, balance and control, precision, technique, execution and a high level of Choreography is also required. Source: Wikipedia \ Calisthenics Australia
JOIN US in 2022!!
All new members receive 2 FREE classes.
We encourage all children to come and give calisthenics a try. We welcome all new participants so why not bring a friend? Please see our Classes Page for location maps and class times for each age group/section.
For enquiries please contact Jan Nolan on 0439 692 898 or visit our contact page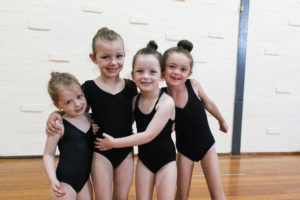 For class times and information please visit our Classes Page.
To find out more about our coaches visit our Coaches Profiles.